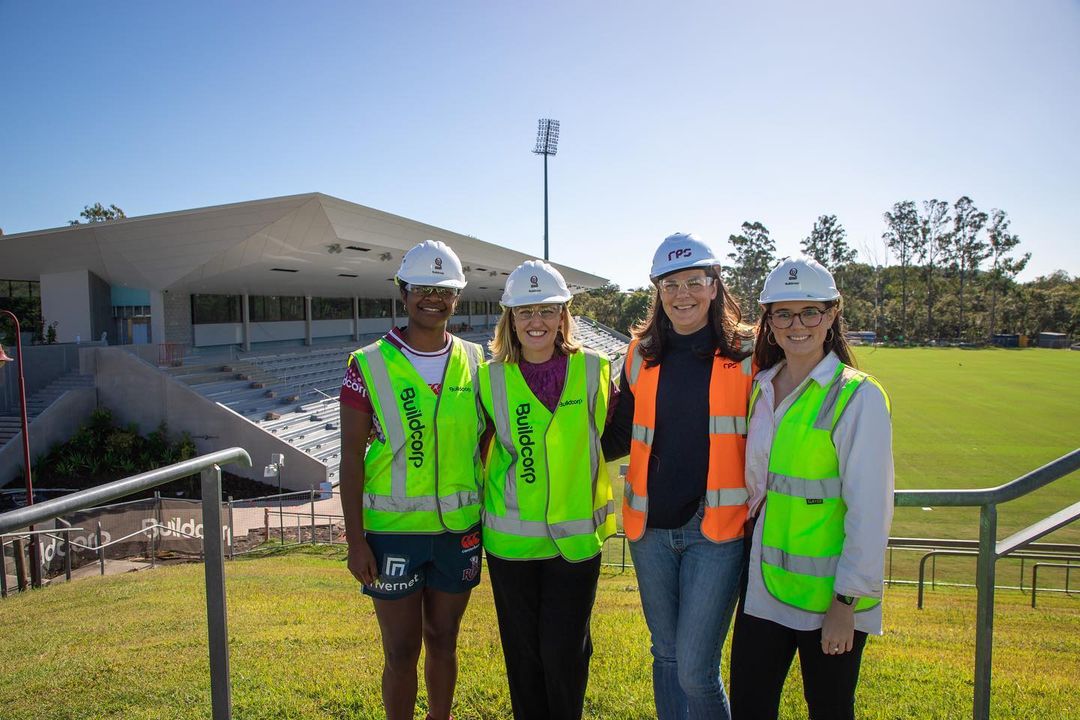 Celebrating the women helping build Ballymore
Pictured above (L-R): Renae Nona (Queensland Reds), Hon. Shannon Fentiman MP (Queensland Minister for Women and Attorney-General), Fiona Taylor (RPS), Marnie Goodman (Blight Rayner)
The Queensland Rugby Union today thanked the many women who have helped build the National Rugby Training Centre (NRTC) at Ballymore – the new national headquarters for Women's Rugby.
Queensland Minister for Women and Attorney General Shannon Fentiman today toured the $31.5 million project, which opens next month to herald a new era for Ballymore.
Currently, more than 30 women have been involved in the 15-month construction project, which has supported almost 200 full time jobs.
The NRTC will be the home of the Buildcorp Wallaroos – national women's XV side – as well as the centrepiece of a new boutique stadium which will be Queensland's first home of women's rectangular sport.
QRU CEO David Hanham said the NRTC was one of the first mixed-gender high-performance centres in Australia to be designed and built with female athletes in mind.
"The contribution of some amazing women throughout this project, from the earliest design to the finishing touches, has helped create one of the best female-specific centres in Australia," he said.
"Ballymore is going to be Queensland's new home of women's rectangular sport, with Women's A-Leagues football, Super W rugby and Wallaroos Tests – as well as the 2032 Olympic hockey venue. "As we've built the NRTC, it's been really important to have the input from our senior female players, coaches and officials to ensure Ballymore's infrastructure and facilities reflect the growth of women's sport and the need to design accordingly.
"We are proud to work with Buildcorp, Blight Rayner, RPS and our other construction partners, who are all committed to promoting the advancement of women in sport and construction."
Attorney-General and Minister for Women the Hon. Shannon Fentiman MP said: "This is an incredible development and significant step for women's rugby and other women's sport in Queensland.
"I want to thank the amazing women who have worked on this project, from planning to construction – it's fantastic to see an increase in women working in male-dominated industries."
The National Rugby Training Centre is jointly funded by the State and Federal Governments, and the QRU.
The centre will officially open in June and features an integrated 3010-capacity grandstand as well as high-performance elements including an 800 m2 gym, aquatic recovery and a 75-seat auditorium.
The NRTC will house the Buildcorp Wallaroos, the Queensland Reds men's, women's and 7s teams, the Reds Academy and also elite Queensland pathway programs.
The NRTC and new McLean Stand are the first stage of the redevelopment of Ballymore into a boutique 12-15,000 capacity stadium – Queensland's first home of women's rectangular sport.