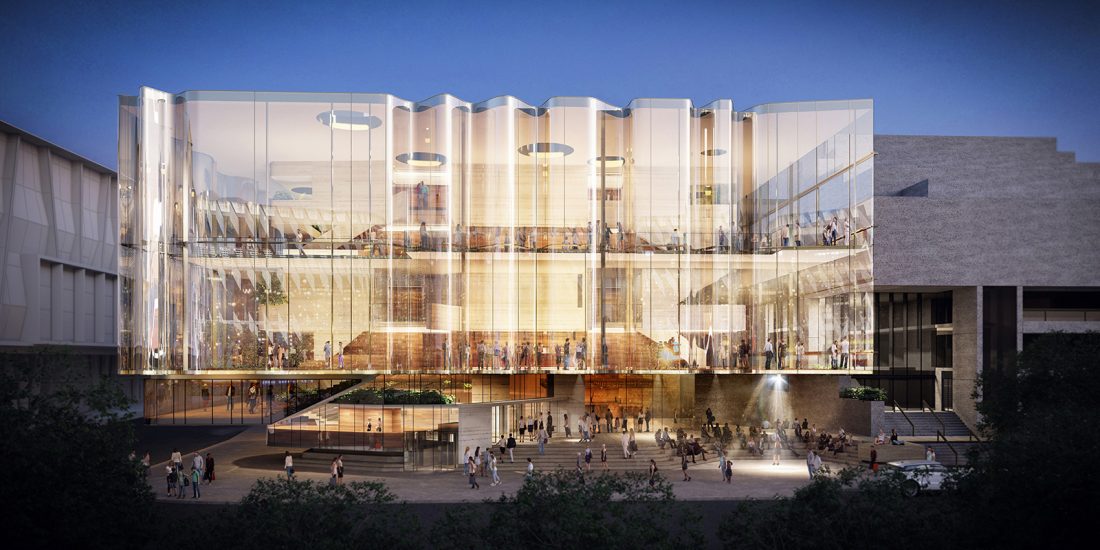 Blight Rayner and Snøhetta win New Performing Arts Centre competition
Blight Rayner Architecture and Snøhetta have been announced as the principal design consultant for the $150 million New Performing Arts Centre in Brisbane. 
The new theatre will comprise a minimum 1500 seat theatre and rehearsal studios that also enable performances. The theatre will facilitate ballet, dance, music, opera, musical theatre and drama. It will be the new home for the Queensland Ballet, Opera Queensland and the Queensland Symphony Orchestra. 
Blight Rayner and Snøhetta won the design competition from a field of four other high quality architectural partnerships: 
Wilson Architects and Henning Larsen (Denmark) 
Cox Architecture and Amanda Levete Architects (AL_A) 
Richard Kirk Architect and Kerry Hill Architects 
M3 Architecture and ARM Architecture. 
The new building will complete the Queensland Performing Arts Centre which, along with the whole Queensland Cultural Precinct, was heritage-listed in 2015. Sensitivity to and respect for Robin Gibson's architecture was a key requirement of the concept design. 
The Blight Rayner-Snøhetta design proposes a 'solid' core containing the theatre which forms alignments with QPAC's grid, and extends cantilevered foyers beyond the boundaries, enveloped in undulating glass walls. 
Blight Rayner director Michael Rayner said the idea of the folding glass wall stemmed from workshops with Snøhetta during the six week design process: 
"An early thought was about abstracting a curtain and creating a sense of the whole building as theatre. But we also became inspired by a poem by Indigenous Australian artist Lilla Watson which reads: 
Beneath the Southern Cross, and the canopy of the rainforest along the river bank, the Kurilpa, which still survives here, dug out its nests and left its tracks…they looked out over the river, the ripples on the surface stirred by the wind and tidal surge, and the fish swimming in the water. 
The idea expanded to encapsulate notions of the Brisbane River, and of dance, symphony and narrative. Rayner's partner Jayson Blight said the design respects the Gibson architectural legacy in multiple ways including its overall simple cubic form, retention of original fabric and reflecting its spatial hierarchy and limited material palette. 
A key initiative was positioning new studios under the theatre where they are visible to the streets for performances, potentially opening up to the pubic realm. Snøhetta's Australian director Kaare Krokene commented "This is about engaging the arts with everyday public life, not just relying upon formal theatre performance". 
Blight Rayner/Snøhetta Project Team:
Project Directors · Michael Rayner (BR) and Kaare Krokene (Sn) 
Project Architects · Jayson Blight (BR) and Henry Williams (Sn) 
Interior Designers · Lisa Lee (Sn) and Lauren Hickling (BR) 
Team Members · Kate Reilly, Alex Munoz, Kara West, Madeleine Webb, John Campbell, Chris Lewis, Madeleine John, Tim Watson, Ashneel Maharaj, Jeremy Zigenbine, Rebecca Hunt, Chelsey Williams, Reilly Mallon, Elton Williams
Visualisation Artists · Visualiii, Kinetic Render, MIR